Clark TK 40 Königstiger Platine
NEUHEIT! JETZT EINGETROFFEN!!!
Clark TK 40 Königstiger V1 Platine
mit Handkurbelstart.
Im Video wird die TK 24 V2 mit elektro Start up gezeigt.
Der Sound ist der gleiche wie bei der TK40 (nur mit Handkurbelstart).
Unter Dokumente finden sie die Clark Anleitung übersetzt ins Deutsche.
Hier finden Sie alle weiteren Infos in Englisch zur TK40 mit Funktionsübersicht und Anleitung:
http://www.clark-model.com/eng/prod_rx40/index.html
 TK40 Series Tank Gamming Controller
TK40 series RC tank Gamming Controller
World's First integrated RC tank controller with Ultrasonic ESC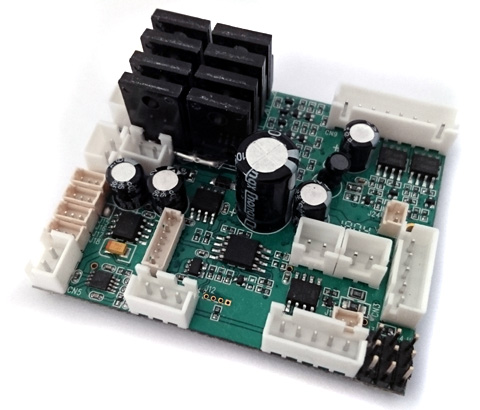 THIS IS NOT 100% PLUG AND PLAY BOARD, SIMPLE CHANGE IS NEEDED FOR FULL OPTIONS
(specifications and design are subject to change without notice)Overview

TK40 series controller is the successor of successful TK24 controller, uses 4-CH conventional PWM or 10-CH  S.BUS  RC system to control R/C tank's forward/backward movement, sharp turning, pivoting, turret rotation and gun barrel evaluation at variable speed
Ultrasonic ESC*3  for two track motor and turret rotation
Carefree reversing
Ultra Low turn-on resistance FET for track motor ESC
22KHz, 8-bit high quality sound with digital sound mixer
Maximum of 5 channel of sound track, main gun, machine gun, turret rotate, gun barrel elevation and engine sound can be generated at the same time
3W sound output power
0.8A BEC
EPM*2 for gun elevation(EPM1) and turret rotation/gun traverses(EPM2) 
Wide operating voltage rage, from 7.2 to 12V, support  3S Li-Po battery
Support air-soft gun with sound synchronization
Support TAMIYA and HL IR battle unit and format
Support RealRecoil servo port
Support Recoil Solenoid for 2nd Machine Gun( MG2 )
G variant Support gun barrel stabilizer
Safety shutoff prevents unwanted movement while signal lost
Miniature design(60mm X 50mm X 20mm) for 1/25~1/16  R/C Tank
V2 Smoker driver
Adjustable Low Battery threshold
Terminology

Ultrasonic ESC
is the ESC block which switch FET at ultrasonic speed, make motor rotation extreme  smooth and quite. start voltage of ESC can also be adjusted for different type of motor. 
Carefree reversing:
Unlike some other control board, there is no need for TK series board to delay before being commanded to reverse, can go from full forward immediately to full reverse or vice versa 
EPM ( ESC/PWM module)
is peripheral which can be switched to ESC or PWM mode, allows the user to drive brushed motor or servo motor, in ESC mode, ESC port is enabled, can be used to drive brushed motor, In PWM mode, PWM port is enabled to driver servo motor, sound effect stopped when servo motor reach end point, TK40 has 2 EPMs for gun elevation(EPM1) and turret rotation/gun traverses(EPM2), 
EPM No.
ESC/Ultrasonic ESC port
PWM port
EPM1
5th and 6th Pin of CN9
J4
EPM2
7th and 8th Pin of CN9Note:ESC in EPM2 is
Ultrasonic ESC
J5
RealRecoil
allows you to recreate real gun barrel recoil movement with single & cheap servo motor 
Recoil Solenoid
allows you to recreate MG/Auto cannon barrel recoil movement with Solenoid 
V2 Smoker driver
smoker fan/compressor speed is proportional to engine RPM and Load 
V2  Mixer
turning is achieved by reducing track speed and also increase opposite track speed to achieve smoother turning. 
Adjustable Low Battery threshold
cut off ESC output when battery voltage is lower than threshold, and threshold can be adjusted according to type and cells  
Product Identification System


| | | |
| --- | --- | --- |
| Device | TK40 | TK40 series Tank Controller |
|   |   |   |
| Variant | Blank | Standard |
|   | S | S.BUS interface |
|   | P | Sound Programmable |
|   | A1 | 105A track current ESC (CN6, CN7) |
|   | G2 | Support Gun Barrel Stabilizer |
|   |   |   |
| Sound Pack | T1 | Tiger I |
|   | KT | King Tiger |
|   | CH2_V1 | Challenger 2 ver. 1 |
|   | ..... | Refer to TK Sound Pack webpage for more information |
Variants

Device
 
TK40S
TK40
Remote Control System
2.4G RC system with S.BUS
2.4G RC system with S.BUS/PWM
Control Scheme
10-CH
4-CH
User Sound Programmability
YES, TK40SP
YES, TK40P
TAMIYA IR battle
Compatible
YES
YES
HL IR battle
Compatible
YES
YES
VsTank IR
battle
Compatible
YES
YES
TAMIYA 1/35 IR battle Compatible
YES
YES
Damage Simulation
on track
YES
YES
 Damage Simulation on turret rotation
YES
YES
Long range IR battle
(>30M)
YES
YES
Engine Sound Simulation
 V2
Multi-Sample-Set,
Frequency Shift and Level,
+ Revving
 V2
Multi-Sample-Set,
Frequency Shift and Level,
+ Revving
Neutral Gear
YES
YES
Sound set for
specific tank model
YES
YES
Track driver Current
20/60/105A*
20/60/105A*
Track driver
Momentum Effect
(Soft start/stop effect)
with ON/Off Control
YES
YES
Turret Rotation Speed Control
YES
YES
Gun Elevation Speed Control
YES
YES
Gun Elevation Servo Port
YES
YES
2nd MG sound and Light effect
YES
YES
*Upper Hull Functions (CN9) Mode is set to MG2 Mode
AirSoft with Sound Synchronization support
YES
YES
TAMIYA Recoil Unit Support
YES
YES
RealRecoil
YES
YES
Smoker driver
YES
YES
Proportional Smoker driver
V2
proportional to engine
RPM and Load
V2
proportional to engine
RPM and Load
Head Light on/off control
YES
YES
Tank Personalization
YES
YES
LED GUN FLASHER Port
YES
YES
Chassis Recoil On/Off
Control
YES
YES
Vertical Gun Barrel Stabilizer
NO
NO
Turret
Heading-Hold
(Horizontal Gun
Barrel Stabilizer)
NO
NO
Auto Load Position
NO
NO
Engine Deck Level Detection
NO
NO
Kit contained
TK40SP board*1,
channel cable*4
TK40SP board*1,
channel cable*4
 
 
 
Release Schedule
Released
Released
* 20A if to connect motor from on-board connector, 60A if hardwire motor to PCB pads, 105A for A1 board 
Hardware Variants

| | | |
| --- | --- | --- |
| Variant Code | Description/Notice/Change/New Features | Release Schedule |
| - | Standard Specification, 20/60A track current. Class-A audio amplifier | Released |
| A1 | 105A track  current ESC (CN6, CN7) | Per-Order |
|   |   |   |
|   |   |   |
Software Revisions

Software
Package
Name
Description/Notice/Change/New Features
Release Schedule
V1
-10-CH S.BUS control scheme,
- UltrasonicHz ESC for track and turret rotation.
- Ver.2 Bootloader
- V2 Smoke driver,  is proportional to engine RPM and engine loading
- V2 mixer, turning is achieved by reducing track speed and also increase opposite track speed to achieve smoother turning.  
Released
Motion adaptive Engine Sound and suspension Simulation Package
 
- Motion adaptive, engine load and engine RPM are changed according to motion sensor.
-Track sound
-Update fee: $90 include motion detector

 
TBD